Aw, don't cry, Alfred. Your boy Bruce will be back, I know it! And how do I know ? Well, I've been reading The Return of Bruce Wayne (not out this week, I'm just behind), in which Batman plays caveman, pilgrim, and pirate. Time travel books are a mixed bag, but the Batman mythos is pretty dear to my heart, so I'm willing to go there….for now. Grant Morrison has always been a high-concept, over-the-top storyteller, and I feel like he may be stretching that MO a bit thin these days. But so far I like this book, despite the fact that it's had two artists (albeit very good ones) on as many issues. Never a great sign, even if they planned it that way.
And speaking of high-concept, multiple-artist Batmania, Mr. Morrison returns to the flagship Batman title this week, accompanied by a whole slew of pencillers, extra pages, and an oversized price-tag. Will I or won't I join in the fun? Read on…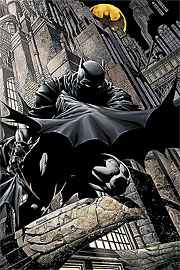 Batman #700…Quite a milestone. Accordingly, DC is charging you $4.99 (!!) to read what I assume will be one of those jumbled, flashback-filled messes of a story rehashing long-familiar Bat-lore and hinting vaguely at the details of Bruce Wayne's return. But, since that tale is being told in a seperate book by the same author, I can only assume Batman #700 will be, mostly, a waste of my time and money. So I'll flip through it in the stacks, though I can't see throwing down a fiver on a big, sloppy recap. Here's hoping it's more than that, but I ain't holdin' my breath.
Next up, Millar & McNiven's Nemesis #2 (catchy title, guys). I don't even remember the first issue of this new series from the mind of Mark Millar (the comic world's other busiest big-concept guy these days), but I swear I did read it. I guess it didn't make a huge impression on me, but I'm willing to check out part two, just in case. I usually give these new books by the big names a chance, provided I've enjoyed some (if not all) of their past work. Fingers crossed, 'cuz Millar has been sliding down my scale for a little while now. Kick-Ass (the comic, I didn't even see the movie) wasn't that kick-ass to me, and the tagline on the above Nemesis pic worries me. "Crime is awesome and so am I"? Who thinks that's a cool thing to say? The uncool, that's who.
Daredevil #507 is the end of the current Hand-related arc, I believe. DD is one of my favorite characters, although this run has been a tiny bit blah. It's still interesting, but my bar for Daredevil books is set so high nowadays that, consequently, the lesser stories stand out. Or don't stand out, rather. Nonetheless, I'm still buying this title, and I'm hoping the editors bring back Bendis or Brubaker someday. Not likely, but a man can dream, can't he?
Remember two paragraphs ago, when I zinged Nemesis for its too-wordy title? I take that back. Far more deserving is this week's Ultimate Comics Avengers 2 #3, also from Mark Millar (what is it with you and these titles, Mark?), and featuring the highly stylized yet tastefully rendered pencils of Leinil Yu. That's right, it's the Ultimate Avengers, but it's somehow related to Millar's run on Ultimates 1 and Ultimates 2, while still tying into the Jeph-Loeb-penned travesty that was Ultimates 3. I think. Confused? Hopefully not, if you've been following this title for a number of years. But if you haven't, well, you're on your own. Look it up on Dorkepedia or something. Oh, wait, you can't—I made that up.
I guess that's it for this week. I'm suffering from some kind of flu, so I'm far too lazy to look into Wednesday's batch of indie books. Maybe I'll come home from Comics Unlimited with a little something extra. Who can say? Me, obviously. That was a rhetorical question. Until next time…
Excelsior!
(No, that's the wrong catch phrase. What's mine again? Oh, yeah.)
Bagged and boarded,
Grip Grand