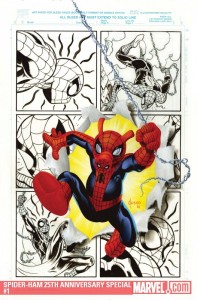 June is almost over. Which, for many of you, means a day you've been anticipating since the mid-80's: June 30th, 2010, the official debut of the Spider-Ham 25th Anniversary Special #1!! In truth, no one I've spoken to is looking forward to this book, but its existence is just further proof of last week's assertion (by me) that the Marvel bullpen is huffing back issues of Micronauts (or possibly ROM: Spaceknight) in their free time. As is, by the way, the title…25th Anniversary Special #1? As far as I can tell, this is a one-shot. Will the book somehow celebrate a second 25th anniversary?
Of course, ridiculous idiocy is why we read comics in the first place, so who would expect less? With that in mind, let's hit the Pull List. First up this week (no, I'm not buying Spider-Ham) is Moon Knight & Friends…er, excuse me, Secret Avengers #2. Looking at a team like this, I imagine Marvel would like you to think "What a bunch of misfits!" But I'm so used to these superhero-randomizer team-ups that they'll have to try harder if they wanna impress me. Howard the Duck's Space Avengers: ROM vs. Micronauts, anyone?
Book two (also the last book on my list…do two items even constitute a list?) is Captain America #607. I was off this book for an arc or two, now I'm back on it. Brubaker, et al, do a good job with this character, and recent plot developments have re-piqued my interest. So here I am with my three (or is it four, now?) dollars in my hand. Cha-ching.
And that's it, once again. DC didn't come through for me this week. They tried, though, even pulling a fast one and releasing Wonder Woman #600—"Renumbered to reflect Wonder Woman's starring role in 600 issues," according to their website. Really? Wow. When is Superman #1,000,000,000 coming out? I can't wait. Until then…
Keep it bagged and boarded,
Grip Grand