Anyone who wonders why San Diego's Comic-Con is the largest convention in the Western hemisphere, look up. That's why. From the footage that local news outlets were running of the convention floor, you would think this year's theme was T & A. God bless the nerds and their weirdo libidos.
I was, by total coincidence, in greater San Diego last weekend, but not for Comic-Con. I just needed some R & R after three weeks of computer failures and lengthy dialoguing with tech support departments all over the world. Those same technical issues are to blame for last week's gap in our regularly scheduled Pull List programming. So sorry. You ain't missed much, all I grabbed were the newest issues of Avengers and New Avengers. The bonus material at the back of these two books, in which Bendis retells the origin of the Avengers using a sort of talk-show interview format, are quickly becoming my favorite part of those titles. But enough about last week, what about this one?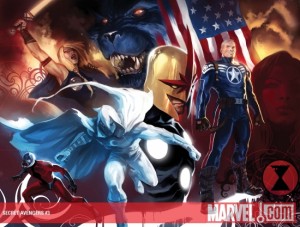 Well, speaking of Avengers titles, it's a new issue of Moon Knight & Friends, aka Secret Avengers #3! Not as memorable as the other books bearing the big A these days, but so far it's still on my list. If it doesn't deliver something special this week, I'm pulling the plug.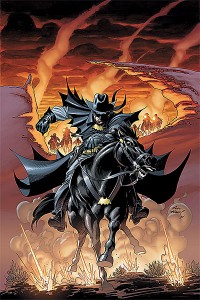 Over in the DC universe, Batman is riding horses! Of course, I predicted as much in an earlier installment of the Pull List, and it's not because I read Previews (I don't). I just saw this coming a mile (or, rather, a month) away. Batman: The Return of Bruce Wayne #4 finds your boy Bruce bat-tling it out (sorry) in the Old West. I don't mind time-travel Batman, I'm no purist, but this story is becoming a bit one-dimensional. Each issue has little impact on those that follow it, and I kind of hate books that don't matter, unless they're truly excellent. And "truly excellent" is not how I would describe this title, to date.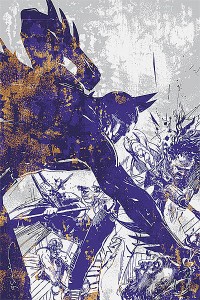 Batman: Widening Gyre #6? Is this book really still coming out? I had forgotten all about it. The last issue was released more than four months ago. That's fucking terrible. I am a Kevin Smith apologist, but the inevitable delays on his comic work just aren't cute anymore. If Kevin Smith wants to write comics, maybe he (and Walt) should stick to graphic novels and publish the whole story at once. Because if I have to wait four months between issues, please believe that I am no longer invested in the tale you're telling. And I really want to be, Kevin, as I do so enjoy your work. I own all your speaking-engagement DVDs and everything. Don't go breaking my heart.
Well, I guess that's that, at least for this week. Better get back to making rap music. Until the next…
Keep it bagged and boarded,
Grip Grand