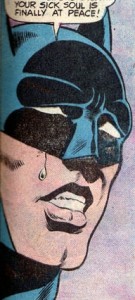 Hello. I've posted this picture of Batman crying to demonstrate my mind-state upon finding out that this week's pull list is only one book long. I'm sure it says more about my recent buying habits than it does about the quality of today's comics…but I'm not that sure. At any rate, it doesn't make for a very stimulating column. Nonetheless, here we are.
So, what will that single book be, you ask? The suspense must be killing you. But don't dial 911 just yet, I'm here to help. I'd ask for a drum roll, but I'm sure you already have one going in your head. So, without further ado, everybody brace yourselves for the big reveal…
Bam! There it is, in your face!! Well, I know it's a bit anticlimactic, but my one book this week is Daredevil #509.I can't say I love the direction this Shadowland thing is going…it just doesn't make a whole lot of sense to me. Daredevil is a pretty finely tuned character, and the subtleties of his shifting morality have been expertly handled in the past by writers like Bendis and Brubaker. The Daredevil we see here has supposedly been pushed over the edge, but Matt Murdock has been there before, time and time again, and it never went down like this. Maybe that's the point of Shadowland, but it's not my favorite take on DD (so far). He's acting like a man possessed…and, in the end, he may turn out to have been just that. But some deus ex machina that explains away or resolves his erratic behavior at the end probably won't make for very satisfying story. I'm hoping that's not where we're headed.
OK, chum…p. That's all for now. One measly book, and I can't even get excited about it. What a pessimist. Maybe my office needs better feng shui or something. I'll go look into that. Until next time…
Keep it bagged and boarded,
Grip Grand